Find out if you may qualify for Disability Our online evaluation is quick, simple and free
One of the most

experienced

passionate

resources when it comes to Social Security Disability
For over 35 years SSDC has helped hundreds of thousands of people win the benefits they deserve.
The Basics
Learn about what Social Security Disability is, how you can qualify and how much you can earn
Eligibility
Deep dive into all the rules and requirements that Social Security sets for Disability Benefits
Medical Conditions
See what common and not so common conditions can qualify for Disability Benefits
How to Apply
Learn how to apply, what to expect and how to prepare
Already been denied?
Most people are denied the first time. Know your rights and what you should do next
Helpful tips and advice to win your claim
We've compiled our best tips and advice over the last 35 years to help people get Disability Benefits
Estimate your monthly benefit amount in seconds
SSDC has developed a very easy to use calculator to estimate how much you can expect to earn each month if you were to receive Disability Benefits.
Your benefits depend largely on how much you've earned over the course of your life.
Calculate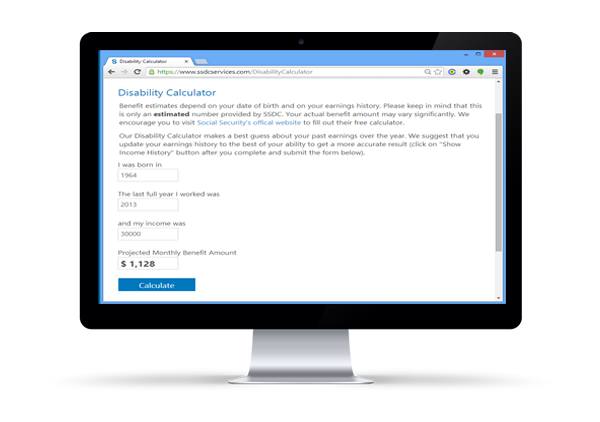 No Fee Promise
Contact SSDC to learn more.